For those of you who would love to have a short break from the everyday pressures of metro living, Convention India brings some really interesting options for a one day picnic near Delhi. Perfect to explore with your friends, family or with your work group; these spots are the perfect weekend getaways. Equipped with luxurious amenities, great entertainment options and nestled in the lap of nature these hotels, resorts and camps are a must-try when you need a memorable change.
Picnic Spots in Gurgaon:
Gurgaon houses several luxurious resorts and farm houses and day picnic resorts just suitable for those living in the country capital. Not very far, these Picnic resorts are perfect for corporate, school or family day picnic. Visit for a day picnic or plan an overnight stay with loved ones. Discover the different packages available and browse through the many activities that can be planned to make the trip fun and exciting. Here is a list of activities that you can indulge in at our partner destinations for a joyous trip:
List of activity for Day picnic around Delhi:
Rope course activity: –
Such activities help foster cooperation and trust within the group. Some great resorts where you can indulge in this activity are include – the Kingfisher Adventure Retreat, Dream Island Resort, Botanix Resort which is near Damdama Lake, Camp Wild in Dhauj Village, and Turtle Farm Manesar.
Team Building Game Activity: –
With corporates focusing more and more on team building activities, several resorts around delhi offer great activities that are designed keeping the same in mind. When hectic schedules and work pressures get to your team, opt for a group outing at the Turtle Farm Resort or the Awaara Adventure Farm in Gurgaon. They offer several recreational activities like – Tug of war, Blind-fold, Ice-breaker, Musical chair, Ice breaker and more.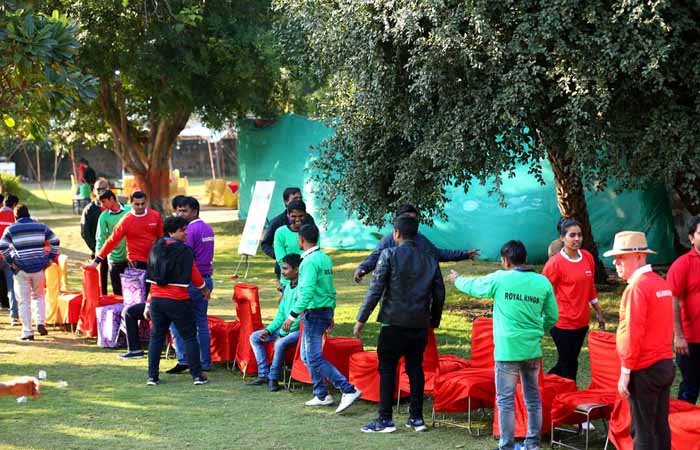 Damdama Lake in Gurgaon: –
Located approximately 60 kilometers away from Delhi, the Damdama lake is a lovely sight and a fun place to go for an outing with the family. Get access to great resorts and fun recreational activities including sculling and rope activities to enjoy with everyone.
Water park & Amusement Park near Noida: –
Perfect as summer getaways, these parks offer the perfect opportunity to have loads of fun and beat the heat. Whether you go there with friends or family, everyone is bound to enjoy here.
Ground Sports activity: –
There are several picnic resorts around Delhi that offer great options for ground sport activities like cricket, volleyball, hockey, football, badminton and more. So take along your gear when you go there and revive the sportsperson in you.